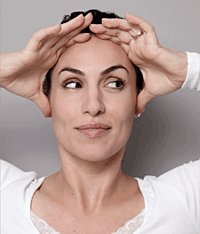 Monna Cheikh is an amazing woman! She comes from a diverse cultural and linguistic background, is a successful business owner, with a Bachelor's and Master's degree, and she's a certified beautician, face yoga teacher, and mother of three. Monna is a powerhouse. To top it all off, her voice is sweet as honey you can hear it yourself by simply checking out her Instagram videos. As for me, I was lucky enough to have a conversation with Monna, and here is what she shared with me.
Monna, can you tell us more about your multicultural background and life? Where are you from, and what languages do you speak at home?
I was born in Denmark, but my parents are from Syria. I met my husband in 2009 and we moved to Norway when I was 25 years old. Since then, we have lived in Dubai, Denmark again for a short period, and now in Oman. We love experiencing new places, cultures, and people, and we love the weather here. Being of Middle Eastern heritage, we are very happy to be in Oman. We speak Danish and Arabic at home, and the kids also speak English with their nanny.
How does your multicultural experience influence your beauty routine? Do you draw inspiration from both European and Middle Eastern beauty practices?
I have always been a proponent of using oils in my skincare. When I was young, my mother would always buy new oils, and when we went on vacation, we would look for new blends. I've been interested in beauty all my life, which is why, in 2003, I became a certified beautician. I love skincare, but all of the new products on the market can be overwhelming. I stick to an all-natural routine, and make sure to protect my skin from the sun simplicity is what works, which is why it is my go-to approach to beauty.
Can you tell me about the cultural differences in skincare between European and Middle Eastern women? What are the typical beauty rituals for women in your culture?
I have lived in the Middle East for a total of four years, but I work from home and rarely visit beauty salons, so I don't have much to say about local practices. However, in general, I can tell you that, compared to Europeans, women in the Middle East tend to prioritize and spend more money on their appearance, including skincare, oils, makeup, and beauty procedures.
Do you work locally as a face yoga coach?
Not anymore. I used to, but since launching my 6-Week Lift & Sculpt course, which has over 1000 subscribers, I don't have time for one-on-one sessions anymore.
I've noticed that you don't post photos of your clients on your Instagram account, but you work with women on a daily basis. Is it rewarding to be such an intimate part of someone's life? Your clients turn to you literally every day.
For many of my clients, this is a very personal journey, and they prefer to keep it private. They seek my services because they want to improve something about their appearance, and many of them aren't interested in showing their "before" and "after" pictures to the world. At first, I felt the same way, but as a face yoga teacher, I want to share my journey and inspire others. I do have a few "before" and "after" pictures from clients on Instagram, but many others prefer to send them to me privately, which I completely understand and respect. We are all on different journeys, and it's so rewarding to be a part of a process that changes someone's life, appearance, mindset, and self-perception. It is truly amazing, and the positive energy and good vibes I receive from my clients are my biggest motivation.
I can relate to that! As a makeup artist, I also see that individual treatments can be a personal and emotional experience for my clients as they learn to recognize their own facial features and see the magic of makeup. But can someone make mistakes while practicing face yoga? Can they make their skin look worse, for example, like when we overstretch or overdo it in Pilates classes?
Yes, if the exercises are not performed correctly, it can lead to unwanted wrinkles, tension, and discomfort. That's why it's crucial to perform the right exercises, in the right order, with the right number of repetitions, and adjust as necessary. That's why I created my own course—to provide guidance and answer questions like "Where do I start?", "What exercises should I do?", and "Am I doing it right?"
Do you practice regular yoga for both the body and mind?
I'm not into yoga, which may sound funny. Instead, I do body pump workouts and I'm also a runner. Running is mentally freeing for me, and I love being out in nature, at the beach, listening to the waves, the birds, and watching the palm trees dance in the wind. I'm lucky to live so close to such beautiful surroundings here in Oman, but there's great beauty in running in Denmark, too, even if it's a different environment. Running is as easy as face yoga, which can be performed anytime and anywhere if you know the techniques.
Monna, you have been using the Reclar Ritual Peeler for some time now. What are your thoughts about it?
Light therapy is fascinating in many ways, and I know a lot of women who have benefited from these devices. What sets Reclar apart for me is that it combines ultrasound peeling and light therapy into one tool. In fact, it's actually a 3-in-1 tool because it also has red and blue LED light therapy and galvanization, which work with your skincare products to enhance their benefits.
Many women use some sort of ultrasound device today, and they wouldn't have become so popular if they didn't make a difference in their skin. But it's also about the fact, that they can provide wonderful sensations while you are taking time to yourself and your skin. Really, Reclar is a wonderful tool for treating yourself. You can make it part of your routine, and select only the functions that work best for you, or you can use all three functions in one session for a little at-home beauty treatment. I give it a big thumbs up!
Monna, thank you so much. I wish you all the best in both your business and personal life!
Asya Meytuv