Iva Hynková (the author is a professional beautician)
Is your skin sending SOS signals? Then it's time for an extra dose of active ingredients. The new LOVE MODE face mask from Reclar is the ideal solution.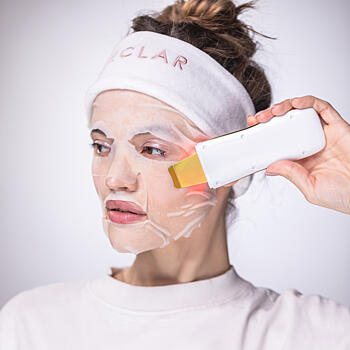 Balance your skin care
It is not enough to rely on professional beauty treatments in a salon once a month to achieve the skin of your dreams. The results greatly depend on what you apply to your skin every day. This is the only way to achieve healthy skin so that both you and your skin are happy.
Face masks are a great, simple and (most importantly quick) way to nourish your skin. Even if you indulge in a salon treatment, I recommend using a face mask at home in the meantime. Especially if your skin is very thirsty. Particularly, if you observe that
your skin is more sensitive
your skin is tight and needs to be moisturized more than once a day
your skin is red and hot (even from the sun)
your skin develops dry scales
Nourishing your skin is the key
The new Love Mode mask literally saturates the skin with active ingredients. There are many types of masks and formulas on the market. Personally, I have had very nice results with the Reclar ultrasonic peeler and the lotion with camellia extracts. So I couldn't wait for the next cosmetic gem they created. And it didn't disappoint. Even though the brand is originally from Korea, they have adapted the formula to the needs of European skin, and you don't see that very often.
The mask is infused with a beautiful cocktail of active ingredients that hydrate, soothe and counteract inflammation. It helps to bring the skin into a healthy balance in more ways than one.
Niacinamide counteracts inflammation of various origins, from acne to rosacea
Extracts from rosemary, thyme, oregano and lavender soothe and heal
Sodium hyaluronate replenishes much needed skin hydration and prevents aging
What can you expect from Love Mode?
For me, it's very important that the mask doesn't sting on the skin (which happens with some brands). On the contrary, it cools the skin beautifully, and in case of heat or sunburn it acts as a cooling, soothing compress. After 20 minutes, the skin is already beautifully juicy, radiant and unified without any red spots.
The perfect result is then achieved by using it together with the Reclar peeler. The red light mode promotes better absorption of the active ingredients. I can recommend this combination (as well as using the mask alone) as a great primer for makeup.
Don't forget to pamper yourself
Using a face mask can also be a relaxing and enjoyable self-care ritual. It is your space for a moment of pampering, which can help reduce stress and improve overall mental well-being. And I think that they really nailed the title. Because you will simply love this face mask.